Tuesday Talks with Certified Trainers on Facebook Live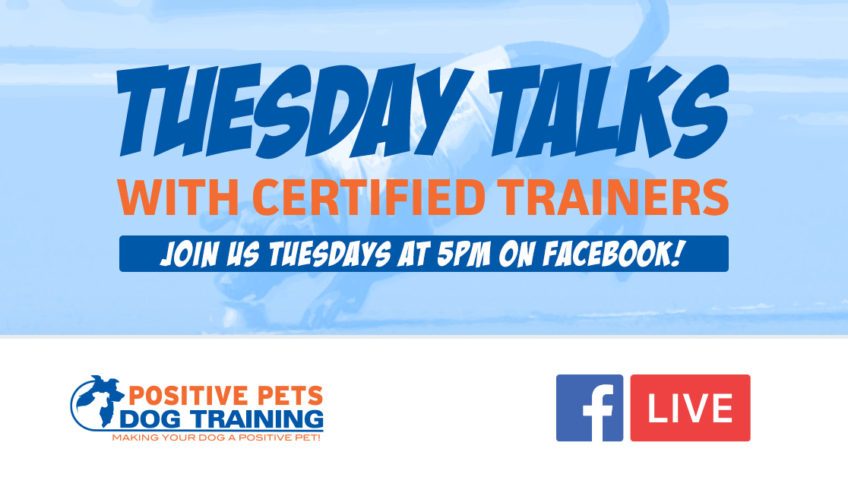 If you're a dog parent you know, it can be an abundance of work, and sometimes there are a million questions you have but don't know where to go to find the answers. In order to help answer some of these questions we will be going live on the Positive Pets Dog Training Facebook page for our "Tuesday Talks" series starting on August 21st. Our certified trainers will take time to answer your questions, host special guests, and give training tips.
What Will We be Discussing?
Each week we will designate a specific topic to the discussion, to get the ball rolling. But this in no way will be limiting the conversation. In fact, we want this to be a comfortable, free flow of ideas and questions. So whether you have a question about our program, training tips, or just advice on giving your pup the best care possible; we'll be here to answer those questions and share it with our dog-friendly audience.
Why You Should Tune In
We want you to feel more comfortable asking any and all questions you may have concerning you canine. That's why during our Tuesday Talks you'll be able to send all your questions and concerns directly to our certified Positive Pets Dog Trainers. We thought being able to touch base with your trainers while simultaneously residing in the comfort of your own home would make your lives a whole lot easier – so that's precisely why we're doing it!
When & How Can I Participate?
You can submit any questions comments or concerns beforehand on our Facebook Messager or email us directly. Either way, your message will be addressed on Facebook live stream. So tune in every Tuesday at 5 PM for our 30min sessions of Tuesday Talks, and you might even get to meet some of our trainers' amazingly cute and well-trained furry friends!
We can't wait to hear from you and your dogs. See you on Tuesday!
---
---