Kohl Featured in ESPN Top 10 Sporty Dogs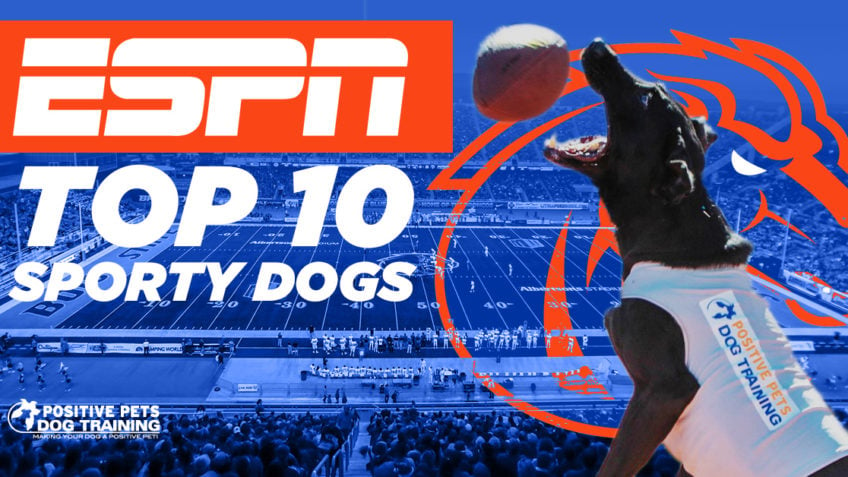 Cowboy Kohl received a bit of Twitter fame as he was featured as #5 on ESPN's Top 10 Sport Dogs! In the video, you'll catch Kohl doing one of his favorite things: retrieving the tee at Boise State Home Football games.
Cowboy Kohl's Career
Cowboy Kohl is known and loved at Boise State as being the Kickoff Tee Fetching Dog for their home football games – and he's pretty excellent at what he does. This will be his fourth year working with the BSU Bronco's, and there doesn't seem to be another career this pup could love more! His job may look easy to some, but it's much harder than it looks. Under all of the distractions and noise, thousands of fans make, Kohl is able to stay focused on his sole task: retrieving the tee after a team punts the football. Officials usually handle this job but BSU has been leaving it up to intelligent canines since the early '90s.
The Boise State Broncos 2019 Season
The Broncos have started the season with an impressive lead, winning all 3 of their games so far against Florida State, Marshall, and Portland State. Out of the nine future games scheduled, four are at home – some come out and support your local college football team at check out Cowboy Kohl in action!
Upcoming Home Games:
Friday 9/20 – Boise State vs. Air Force Falcons at 8:00 PM
Saturday 10/12 – Boise State vs. Hawaii Rainbow Warriors TBD
Saturday 11/9 – Boise State vs. Wyoming Cowboys TBD
Saturday 11/16 – Boise State vs. New Mexico Lobos TBD
Fun Facts About Cowboy Kohl
His Career Started with the Boise Hawks
BSU Football actually found Kohl due to the fantastic bat-retrieving skills he used at the minor league's baseball games.
He Can Shoot Free Throws
After three months of training, Kohl learned how to bounce a flying basketball off his snout and into a basketball hoop! He first showcased this skill at a Broncos's home basketball game.
He Learned His Sporty Retrieving Skills from Obedience Training
Kohl had been taught basic obedience and retrieving training. So his team just worked on transferring those skills onto a field.
We're glad the wonder dog Kohl finally got some recognition for all the training and skills he's learned! Make Sure to Follow Cowboy Kohl on Twitter, Facebook, and Instagram! Check out what he can do at the next BSU home game!