Dog Toys for the Toughest Chewers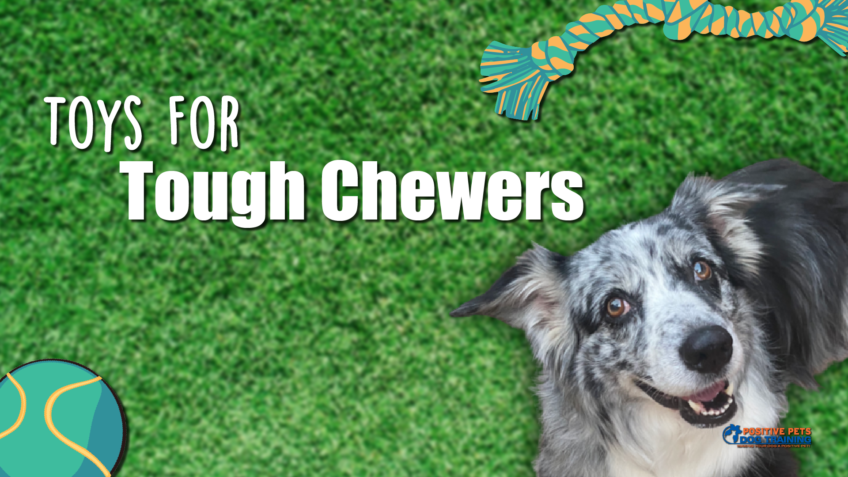 If you have a tough chewer, you know how hard it can be to find toys that are durable and last longer than a few weeks. So, read below for our recommendations of toys for the toughest chewers!
This ring comes in multiple sizes to best suit your pal. Rings are great chew toys because they are easy for your companion to manipulate and have little risk of swallowing. Additionally, this toy is made with smooth and sturdy natural rubber to make it heavy-duty and safe. While these toys are nearly indestructible, Goughnuts will replace the toy if your tough chewer manages to damage it.
This ball is designed to be durable and to be used in interactive play. So, you should always supervise your pal while they play with this toy. Additionally, the ball is designed with grooves for increased airflow and safety. The ball is great for a game of fetch with your super-tough chewer!
This tug toy also comes in multiple sizes to accommodate your pal. The design allows for fun and long-lasting games of tug of war. Additionally, this toy uses the same smooth and sturdy rubber to ensure durability. This prevents your companion from being able to chew off and ingest pieces of the toy. Lastly, just like their other products, your purchase is protected under a lifetime warranty.
This two-piece set comes with a flyer and goodie bone. The flyer is fun for your furry friend to catch and chase. And the goodie bone is great to chew on and can be stuffed with treats for more fun, challenging, and longer playtime! Both pieces are made with natural KONG extreme rubber for tough and long-lasting play.
This classic KONG toy provides mental stimulation through play! It is a puzzle toy that is great for chewing, fetching, and other interactive play. Additionally, the toy is freezer and dishwasher-safe! So, you can stuff the toy with treats, peanut butter, or other foods to provide a fun and challenging game for your furry friend. Also, you can freeze the toy with peanut butter or other treats inside for longer play! Lastly, cleanup is easy because the toy is dishwasher safe.
Check out our toy recommendations above if you have a tough chewer!